MiScope Megapixel Stand
The MiScope Megapixel stand is designed to position the MiScope Megapixel 2 when operating at 20x. The fixed height allows precise calibration and repeatable measurements when operating at low magnification.
The MPstand works with the MiScope-MP2 (including MiScope-MP2-IR; MiScope-MP2-UV; MiScope-MP2-WUVIR). MiScope Megapixel 2 is not included (must be purchased separately).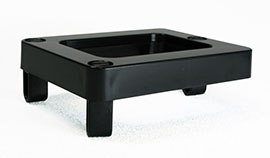 Part Number
Price
MPstand

$50

Stand for MiScope megapixel 2: stand to lower magnification and increase depth of field including the ability to lower magnification to 20x without holding MiScope megapixel 2. One year warranty.

lowers magnification
increases field of view
gives additional working room for larger samples
portable
includes stand
MiScope Megapixel not included (must be purchased separately)

Forensics to lower magnification to see more of signature
Field Sciences, Biology, Entomology, to view larger objects

Weight: 1oz
Dimensions: 1" X 3" x 3"
Field of View with stand:
@ 20x: 1 inch
Warranty: 1 year Limited Warranty
Included/Options