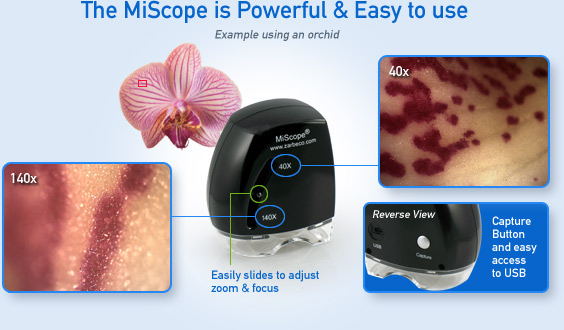 Television Appearances
TV broadcast of students from Ivo Andric Elementary School in Belgrade, Serbia using Zarbeco products.


June 5, 2011
CSI New York - See the MiScope being used in episode 521.


April 22, 2009
As seen on a history television show, the MiScope was used by a forensic scientist to authenticate a historic document signature.


July 2008
Good Morning America segment


April 2006
Customer Testimonials
"I purchased a MiScope from your company about 2 years ago. It has been a useful tool in my course work and I enjoy the computer access. When I tried to reinstall on my new computer, I received help from Dave Zweig. He had great patience in assisting me through the installation. This is rare anymore and so I had to comment. Wow, service two years after the sale, and patient as well as helpful. I'd purchase here again due to my customer satisfaction."

Sincerely,

R. C.
"Meantime can I say how easy it was to place an order with your company and how efficiently you dealt with my request."

Kind Regards,

Y. S
"Thanks for the follow up. I am looking forward to my new equipment. Better than diamonds!"

H. L.
"That is great service. Thank you so much for your quick support. I call that a first class customer service. I hope we are as good to our customers."

Thank you much,

A. T.
"Thanks so much for your help! I got the drivers installed, as well as the updated program and everything is working well. I really appreciate the great technical support you provided for the Video Link and the Video ToolBox."


M
"If I have any questions, I know where to turn. You and MiScope have been wonderfully dependable."


E. S.