Hard Case for MiScope
The hard case with custom foam insert is a rugged, watertight, shockproof, and dustproof case with a custom foam insert designed to hold your MiScope and USB cable.
For field trips or for transport between laboratory to classroom it will keep your MiScope and cable protected, clean, and dry. The custom foam fits snuggly around the Miscope and cable to keep it from shifting when being carried.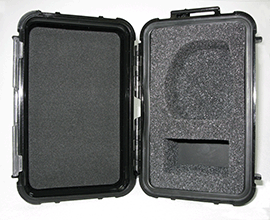 Part Number
Price
MISC-HC

$50

Hard Case for the MiScope: Watertight case for the MiScope with custom foam insert for MiScope and USB cable. One year warranty.

Watertight, shockproof, dustproof
Custom foam insert holds MiScope and USB cable

Weight: 15 oz
Dimensions: 5"x 7"x 3"
Warranty: 1 year Limited Warranty

Fits all MiScope models