Video ToolBox Premier:
Advanced Software for Inspection
Video ToolBox Premier provides professional tools for measurement, annotation, overlays and comparison -- at an affordable price. It works with live images from a video microscope or large captured images.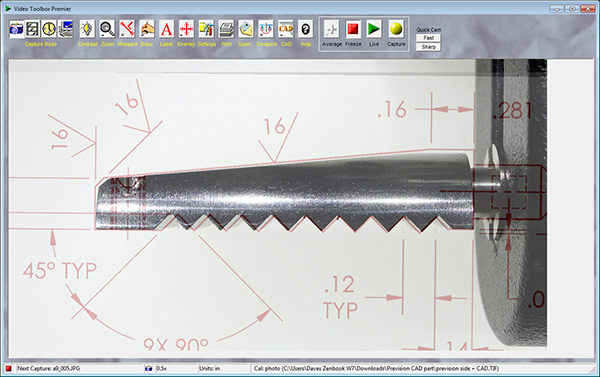 Ghost a CAD file (.dxf or .dwg) over the live image of a part with automatic scaling and
manual or computer-assisted alignment.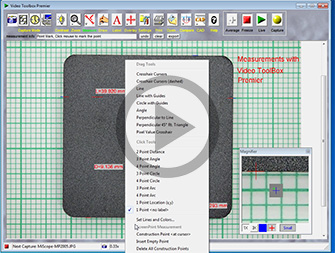 Video Toolbox™ Premier starts with the features of Video ToolBox Pro software, then adds more tools for inspection and precision measurement. Edge detection assistance instantly snaps your measurement tools to an edge. Adjust the location of the measurement tools with pixel level accuracy at any magnification using the arrow keys on the keyboard or the scroll wheel on the mouse. The magnifier window displays a magnified view at the cursor location so you can see and measure precise details, even when your screen is zoomed out to see an entire high resolution part.
Video Toolbox™ Premier lets you work with 16 megapixel DSLR images as easily as you do with live HD video.
Transparent overlays and side-by-side comparisons are quick and easy. The CAD conversion package (CAD Software plugin sold separately) allows calibrated CAD files to be displayed directly over a live image. Filters allow you to isolate single color components in your image. And the customization feature allows you to remove most functions from the main screen so that users are not distracted by features that they do not need.
Video ToolBox Premier works with most USB2, USB3 and FireWire cameras which use DirectX WDM drivers. The software can import most standard image formats including JPG, BMP,and TIF.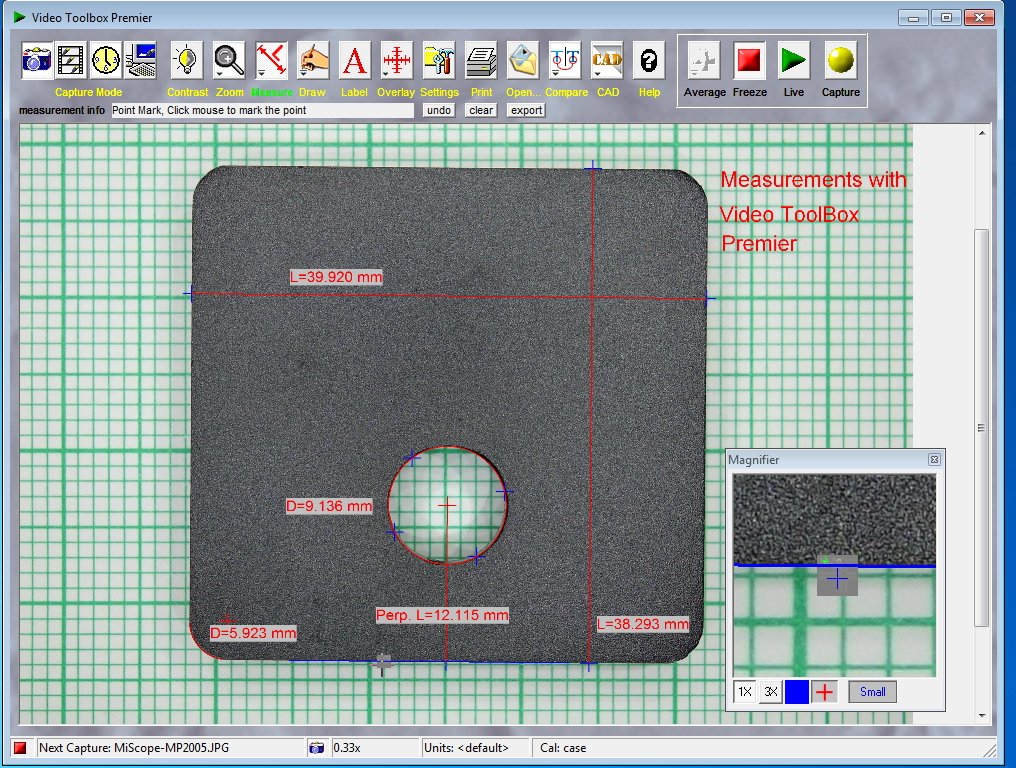 interactive measurement tools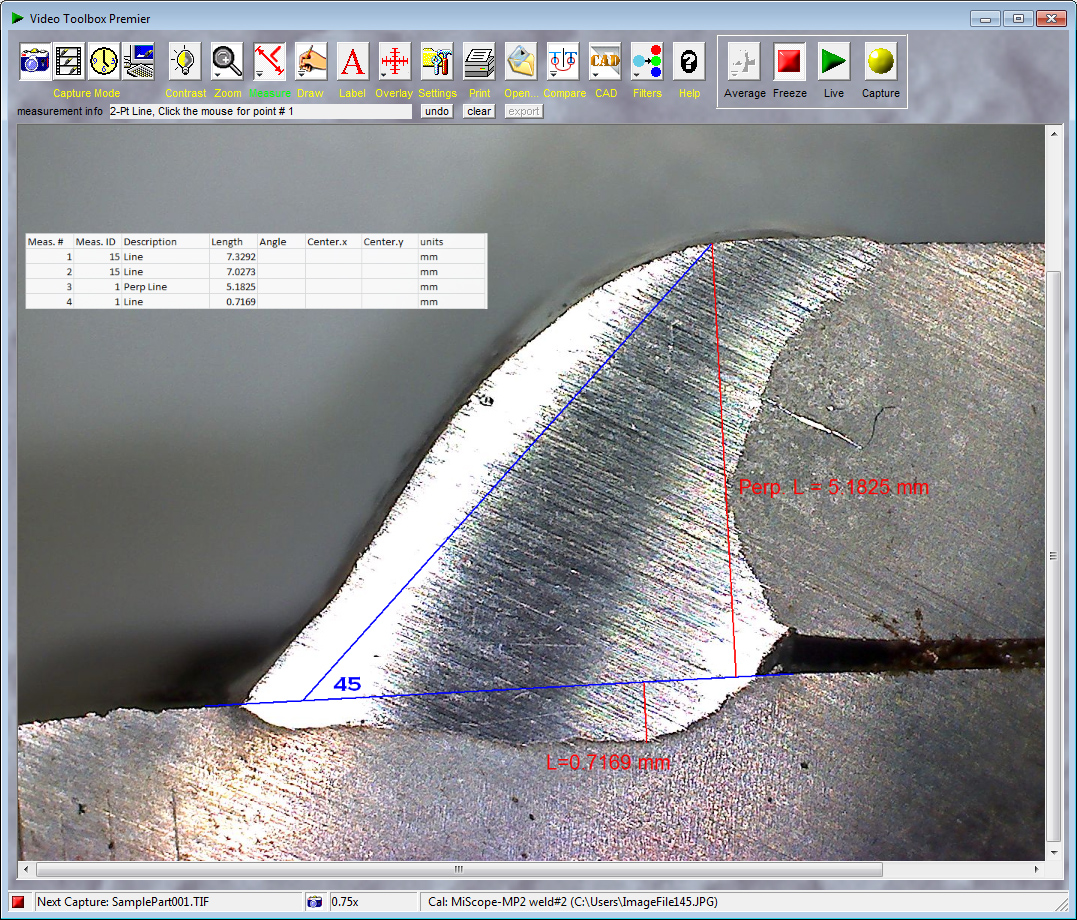 special tools for weld measurement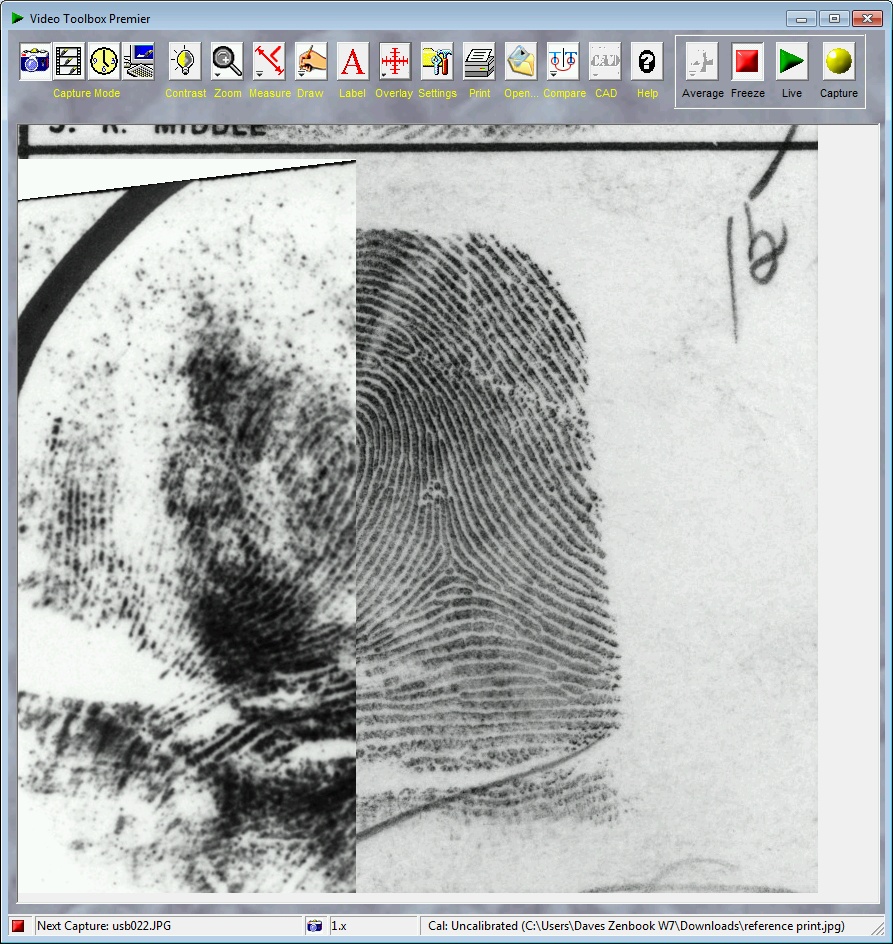 overlay alignment and display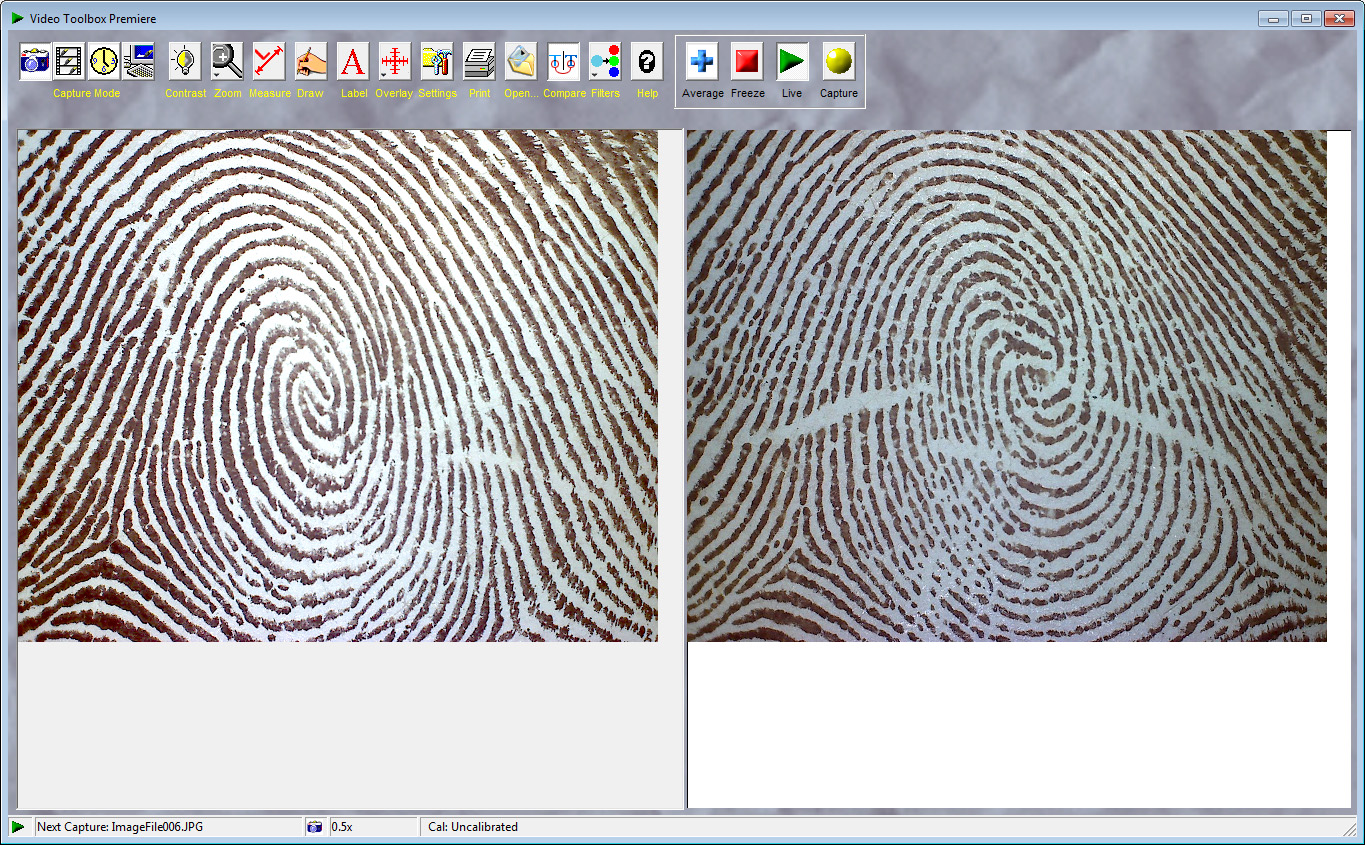 side-by-side image comparison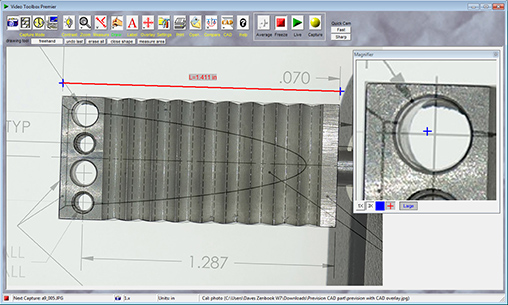 optional CAD import (.dxf and .dwg) and image-to-CAD export plugin

All the features of Video ToolBox PRO plus...
Edge detection assistance for precise measurement tool placement.
Magnifier Window shows live enlarged view below the cursor.
Arrow key and mouse wheel control of measurement tools provides pixel-level placement at any zoom.
Fit line, circles and arc to any number of points
Un-distort tool removes geometric lens distortion for more accurate measurements.
Construction points for drawing calibrated diagrams directly on the image.
Import large images from DSLR cameras for overlays, comparison, analysis or measurement.
Import CAD drawing for overlays with the optional CAD conversion plugin (CAD software add-on sold separately).
Live enhancement filters
Compare a live image side-by-side with a captured image at any magnification, scale or orientation.
Frame averaging for improved image quality. Save averaged images in normal JPG or full 48 bit TIF resolution to preserve all the image detail.
Calibration information is stored in saved images (JPG and TIF formats).

Pentium Atom or Core 2 Duo 1.5+ GHz or faster (Core 2 Duo processor recommended),
Windows XP/7/8/10
2+ GB of RAM, Video card with 64+ MB of video RAM, minimum 800 x 600 resolution at 16-bit (65,000 colors)
Requires free USB port for included USB keylock.



Part Number
Price
VTBPRE-DG-002
$325

Video ToolBox Premier: software adds edge detection, precise measurement tools, calibrated overlays, enhanced capture quality and filters. Includes USB keylock. One Year Warranty.

VTBPRE-UP-002
$99

Video ToolBox Premier upgrade: for previous owners of Video ToolBox PRO software.

VTBPRE-CAD-002
$135

Video ToolBox Premier CAD plugin: Import CAD files (DXF or DWG) as overlays. The CAD overlay is automatically scaled to match the calibration of the live image.

Export the live image into CAD to create precisely scaled drawings, reticules and alignment guides.